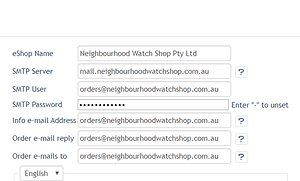 I could use some help here please.
I have been receiving these SMTP errors for quite some time and coincidentally at the same time that the hosting servers were upgraded to VPN Plus. The upgrade was mandated by the server administrators if I wanted to use Composer. I believe without the VPN they saw Composer as a security risk. (over my head).
So basically this problem should be a no brainer. I have attached an image of my current settings. The domain name is neighbourhoodwatchshop.com.au so the SMTP Server name should be mail.neighbourhoodwatchshop.com.au right?
Thanks for any help or suggestions…
NHWS