Hi,
Recently, we have added klarna module to our shop, everything works well except shipping method. We have 2 shipping methods one is standard another is self pickup. for standard shipping method we have some shipping cost where as for self pickup we have zero shipping cost rule assigned. But at checkout self pickup is showing standard shipping method cost like below

But if I change the sorting at admin panel "shipping method" and put the self pickup at top, self pickup cost shows free.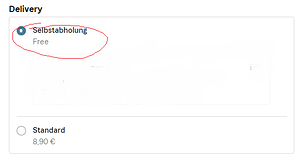 I want standard method to be at the top and self pickup follows the next but with this arrangement self pickup cost is not free, does anyhow have any idea how to make self pick up shipping method free?
Thanks,
emran