I am triying to install OXID ESHOP VERSION 6.0.3 in a Ionos 1and1 Server.
Mit putty (ssh) I write:
php7.1-cli composer.phar create-project --no-dev oxid-esales/oxideshop-project oxid dev-b-6.1-ce
But I get this error: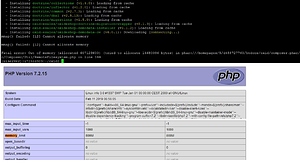 mmap() failed: [12] Cannot allocate memory
Fatal error: Out of memory (allocated 607129600) (tried to allocate 14680096 bytes) in phar:///homepages/5/d458727760/htdocs/oxid/composer.phar/src/Composer/Util/RemoteFilesystem.php on line 594
Memory_limit is set in '800M'
Anybody can help me on this installation?
Thanks.
Fernando.