Hey all,
in a new project I am using "OXID-professional-services/paypalplus-module".
I am already using this module in different project for PayPal PLUS integration but this time I have a weird situaion. I generated CLIENT ID and SECRET ID as usual, I set all configuration but I get this only on LIVE mode: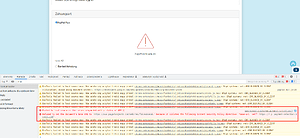 In addition on PayPal account only on LIVE mode I see this note:


I don't know is it only information or some PayPal account has wrong config?
Project is depoyed on the same server like other projects which already use this module with success.
CLIENT ID and SECRET are ok, I did POSTAMAN test request with success.
Any suggestion about where might be the problem?