Hello for everyone,
Anybody knows how to support PayPal PLUS module with Wave template?
I installed PayPal PLUS module (3.0.5) module with:
composer require oxid-professional-services/paypalplus-module
and set Wave template
but in payment checkout step, OXID shows me info:
Das Element "span" (parent of "paypPayPalPlusNextLink") wurde im Template nicht gefunden. Prüfen Sie die Variable "sNextStepLinkParent" im Template "payppaypalpluswall.tpl" und den Moduleinstalllungen "paypPayPalPlusNextLinkParent".
Die Moduleinstellungen finden Sie im Shop Backend unter "eShop Admin > Erweiterungen > Einstellungen > PayPal Plus > PayPal Plus Integration Settings"

Entschuldigung, PayPal Plus ist momentan nicht verfügbar.
Bitte aktualisieren Sie Ihren Warenkorb und versuchen es erneut oder kontaktieren Sie den Shop-Administrator.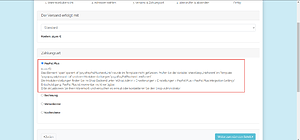 I know how to read it with google translator

but… I don't understand it.
Anybody handle it before? Is it possible?
In module settings I can not find any Wave settings…